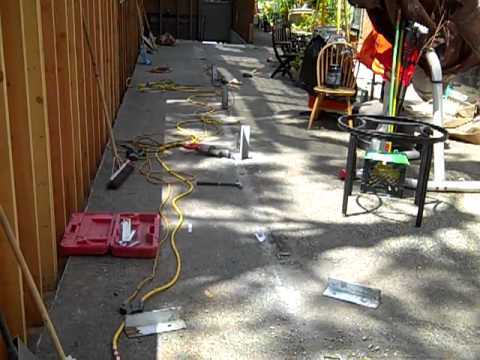 1) One portion of  patio is chosen to start with, a jackhammer is usually used to break the concrete.
2)The jackhammer will start working by squeezing the trigger on the handle.  The idea is to keep a steady downward pressure on the handle and keep the tip pressed to the cement.  Jackhammer has to be steady  to prevent the jackhammer from bouncing.  The idea is to allow the jackhammer to work through the surface through its own motion.
3)As the concrete begins to break into chunks, we move inward on the patio. The jackhammer is reposistioned each times it works its way through the concrete and hit's the soft gravel or dirt underneath.  Do not remove larger pieces than eight to ten inches at a time. While the concrete is breaking up the patio that you continue to move the broken concrete to a wheelbarrow. The concrete from the wheelbarrow and place it somewhere for thehauling company to pick up or into a rented dumpster.
4) Once  all the concrete removed from the patio, the area is racked smooth out and the dirt and  loose chunks of concrete are removed.
To reiterate safety aspects, removing concrete is a very labor intensive job and can prove quite hazardous for your back and eyes if you are not careful enough.  We at Peninsula Hauling have trained professional who have  the right tools and expertise to handle the job for you.   Call us at 650 596 8105 for more details.